Joe's latest success at Donington
Our Assessor and motorcycle rider Joe Lawrence took a step up in class in his stride as he powered into the top 10 on his GP1 debut at Donington.
Joe did the majority of testing on his new Kawasaki ZX10R during practice over the course of the race weekend. But he quickly got to grips with the extra power, after making the leap from 600cc last season to 1,000cc, and earned with fifth and seventh-place finishes from three races in the Thundersport GB GP1 Sportsman class. "The aim was to try to get into the top 10, so to finish with a fifth and seventh place on my first weekend on the bike I was really chuffed with that," said Joe, who was riding alongside GP1 Elite class bikes as well as his own Sportsman class.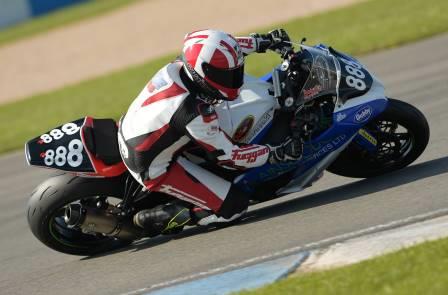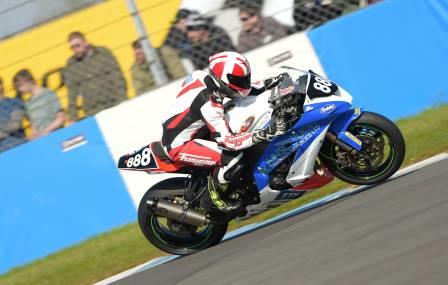 Friday testing went really well, it was pretty much the first time I had ridden the bike properly. "Every session we made changes to the bike and my riding position to make me comfortable on it – it's a different beast to the 600. "In qualifying, my aim was just to go fast enough to get on the GP1 start grid, and we did that easily, beating my 600 time from last year by nearly two seconds." Joe qualified in the middle of the grid, 25th overall and seventh in class, and went on to maintain that performance in the first two races. "We made a good start in the opening race and was up with William Dunlop and the mid-pack runners," he said. "We had a great battle throughout and managed to get home in 19th overall and fifth in class, knocking half a second off qualifying times. "After making more changes to the bike overnight we had a mega battle on the Sunday with old Pre-National 600 lads Sam Osborne, and Sam McFarlane, eventually bringing it home in 20th overall and seventh in class, knocking 0.8 seconds off our personal best on worn tyres." Joe decided not to risk taking to the grid for the third race after noticing a warped disc on his spare wheel in the warm-up. His next race will be at Snetterton on weekend of April 29 – May 1.