Oxspring Junior football club sponsored by Ainscough Training
Oxspring Junior Football Club is a Charter Standard club which, though relatively new as a junior club, has its roots based in over a century of football played in the village of Oxspring. 
We're based in the village in South Yorkshire and our rural setting means we attract players locally as well as from more urban places like Sheffield, Barnsley, Huddersfield and Holmfirth.
Here is the team sporting the the strips sponsored by Ainscough Training Services.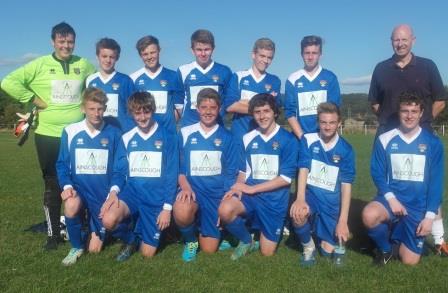 As a club we aim to grow by adding at least one new team each year, this year we bettered this and managed to start two new teams.  We have just introduced our 'academy', which is a partnership with a company that provides "a fundamental movement coaching programme for children from walking to 7 years". We see this partnership as key to our long-term development.
We keep our subscriptions very low to ensure no-one is ruled out through cost, but get the players to raise money through events such as bag packs, sponsored bike rides etc…..and having had our goal posts stolen over the summer, the boys will be expecting a greater than usual events list as we attempt to recover the cost of their replacement!
And of course we are tremendously grateful when companies like Ainscough Training sponsor our major outlays such as kits and tracksuits.
The players have helped out at charity car washes and as a club we have allowed community groups including youth offender services to use our facilities whilst based in the village.
The handsome bunch (!) in the photo, wearing our new Ainscough Training sponsored kit, is our current u16 team; the majority of the players have been at the club since they were 8, which we like to think is attributable to the club ethos, which is to be a friendly club determined to get the players to get the best out of themselves both physically and socially.
What endears me most to these boys is that they are great mates to each other, they come from a variety of different backgrounds and I don't think would be friends in any other scenario.  A couple of them have been through difficult times recently but have relied on their team mates to help them get through…
A lot of effort goes into running a club and a team, but you get so much more in return when you see how these boys develop both as players and as people; it is difficult to put into words how much it is appreciated and how worthwhile the effort is when companies such as yours, in economic times such as these can find the funds to support us.