Successful fund raising event for Broughton School Fulwood
Much needed funds raised for Broughton Primary School at the Sportsman's Dinner at the Marriot hotel in Preston Lancashire.
This follows on from last years successful event where a fantastic amount was raised and as a result during the last year, Mallinsons Contractors have started work on the top field which has been drained, levelled and re-seeded despite the adverse weather. This year again raised money for Sporting Friends Of Broughton School to provide top quality sports equipment for the pupils at the school.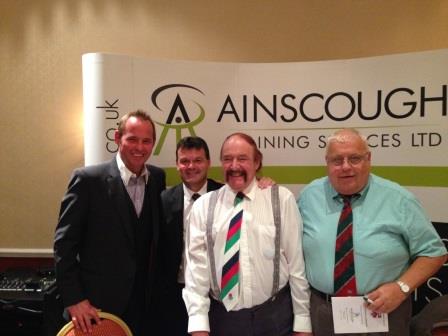 At The Marriott Hotel- Preston Right to left: Ainscough Training MD Rich Crayston. Guest Speaker: Steve Hodge (ex England, Nottingham Forest and Tottingham Hotspurs) Compare: Mike King & Comedian: Billy Bean