JDL Racing latest update from Joe Lawrence our NVQ Assessor
Hi Everyone, It's been a while since our last race report due to missing out Snetterton but we went to Cadwell last weekend and it was great to be back on the bike!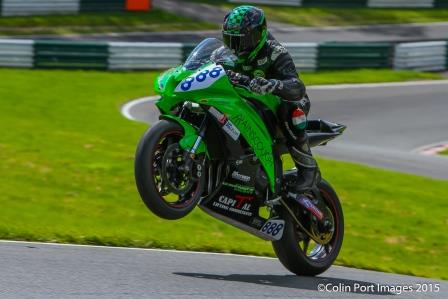 TSGB Round 4 Cadwell Park
Test Day
I had never seen Cadwell Park before Fridays test and with the weather so bad it was very tough to learn the track and I found it difficult to find any sort of rhythm at all. Aquaplaning at over 100mph wasn't the most enjoyable of things!  However the weather forecast for Saturdays qualifying looked sunny and dry so we had 15 minutes to try and learn the circuit.
Qualifying
I wasn't looking forward to qualifying due to the lack of track time and it only gave me 15 minutes to learn the circuit, but I went out and after a few laps started to learn where the track was going and I had some great advice given to me from racers in the paddock.  I actually started to enjoy the circuit and especially the mountain and halls bend sections and I managed to qualify on the 6th row in 14th position for the Saturday races which was our best qualifying position this year.
Race 1
I got a great start and managed to get away with the top 10 riders.  I still wasn't 100% sure of the circuit and was braking way too early in some places but we got on with it race and had some great battles.  At the end of the race we managed to finish 10th which was our first ever top 10 position!  Me and the team were so pleased with the race and couldn't wait to get out there in the second race.
Race 2
Another good start and again got away with the top 10, I was running 11th through most of the race but I started to tire by the later stages and ended up coming home in 14th position, not as good as race 1 but still managed to score more valuable points!
Race 3
Sunday morning was wet again but as I knew a bit more about the track I managed to get comfy on the bike and we had some great battles in the points.  I was running in 13th for a lot of the race chasing down 12th but unfortunately due to a slow backmarker holding me up on the penultimate lap I got passed and came home in 14th.  Another 2 valuable points and on the up side I was getting comfy in the wet now.
Race 4
The track had dried up now and I was determined to continue what we started in race 1 on Saturday.  I got a great start and again was off with the top 10 riders.  We was running in 11th again for most of the race and I managed to get into a good rhythm on the bike and quickly closed down on  10th place but just as I was about to set up a move to get 10th the red flag came out due to an incident behind us.  They called the race a result and we got 11th position.
Overall a great weekend with fantastic results considering we had never seen the circuit before scoring 15 points!
I would like to thank you for your continued support for our 2015 campaign, it wouldn't be possible without you and I am working very hard to keep moving up the grid at every meeting.
The next round is at our "home" circuit at Oulton Park on 27th June, it would be great to see you there!
The Cadwell Park races will be on Motors TV on Thursday night (11th June) @ 0900 if you want to have a watch – as usual it is the Thundersport Elite Show.