Joe competes with the best club racers in the country
Another report, sorry it's a bit long this one but it was another 2 days of racing and our first time racing against the best club racers in the UK!
 Thundersport GB – Donington Park 27th & 28th September 2014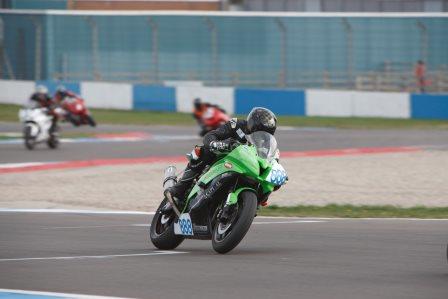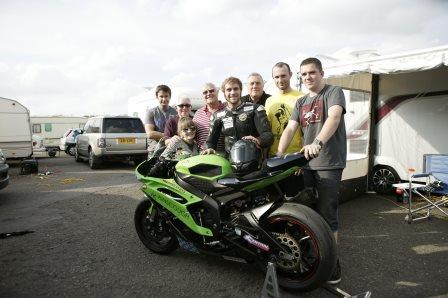 Well after a bit of a mix up between Thundersport and JDL Racing, we were ready to compete in our first ever Thundersport GB round at the Donington Park National Circuit in the Pre-National 600 Class.
Joe had never seen the track before this weekend and was grateful for the help of British Supersport Evo rider James Henry who took time out of his busy schedule to cycle the track on Friday night.
Come Saturday morning, the mix up between Thundersport GB and JDL Racing meant that Joe would have to start on the back of the grid in 39th position for both of Saturday's races, however they did allow him to go out with the Sportsman Elite guys in their practice/qualifying session to get some much needed track time.  After the 15mins qualifying session, Joe saw himself post a time of 1:18.914s which put him 34th fastest out of 39!  A great start considering the talent on track and the lack of track time.
Saturday 27/09/2014
Pre-National Race 1 – Starting from 39th position, Joe got a good start and managed to pick up a good few places before the first corner.  Joe made steady progress throughout the race and continued to make his way up the field to eventually come home in 23rdposition with a fastest lap of  1:19.460s.
Pre-National Race 2 – Again starting from 39th position, Joe got off to a better start and again made steady progress through the field throughout the race, coming home in 20th position, improving his lap time to a 1:18.297s.  After the race, Joe felt that the bike wasn't handling as it should so Ohlins Suspension made drastic changes to the setup to try out on Sundays' races.
Sunday 28/09/2014
Pre-National Race 1 – Joe's fastest time of 1:18.296s from Saturdays races placed Joe in 28th position on the grid.  Right from the go Joe seemed more confident and mid race found himself in 18th position, hunting down the group in front, when the red flag came out due to 2 incidents on track and the race was stopped and results finalised.  The setup changes seemed to have worked and Joe put in a fastest lap of 1:17.138s.  Only 3 places behind the points!
Pre-National Race 2 – Joe again starting from 28th position, got a good start and with a busy first corner Joe lost a few places that he had gained. However as the race progressed Joe made progress again, but with track temperature increasing throughout the afternoon, the rear tyre deteriorated and Joe was struggling to keep up with the morning's pace he had set.  However, Joe still came home in 19thposition with a fastest lap of 1:18.178s and was closing in on the group ahead.
Overall a fantastic weekend competing with the best Club Racers in the country and a great test for next years full season with Thundersport.  We couldn't have asked for more, Joe's first year competing, a new track to us all, and Joe managed to get in the top 20 from the back of the grid.
Again, thanks for your amazing support!  It wouldn't have been possible without ATSL.
We now look forward to next weekends' double header at 3 Sisters for the final 2 rounds of the PDMCC Championships.  We hope to end the year on a high and bring home the Newcomers Championship!
If any of you would like to come down either day it is only £5 entry and there is a café there at the circuit.
Best Regards
Joe, Dave, Ruth and the JDL Team