Joe's first time back on the bike after the Winter Break….
Joe Lawrence (one of our NVQ Assessors) takes us through his first ride of 2015 since the rebuild…..
It has felt like an age since the last race in October but it is finally race season again!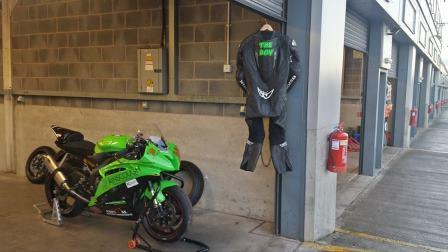 It has been a busy winter, we have had the engine and suspension out of the bike and gave them both a once over.  Also we have been busy on the sponsorship hunt and have managed to not only secure Ainscough Training Services Ltd as our title sponsor again for 2015 as well as Capital Lifting Consultants, Bolton Motorcycles, MTC Exhausts, Eazi Grip and Essex Architectural photography, but we have new sponsors such as BCC Cars in Bolton, A.C. Plant Glazing, and TW Suspension Tech.  Also we have some more potential sponsorship deals in the pipeline too which is a fantastic result after our successful rookie year.
Last Sunday was the first time back out on the bike after the winter break and re-build.  To say I was as excited as a child in a toy shop would be an understatement!!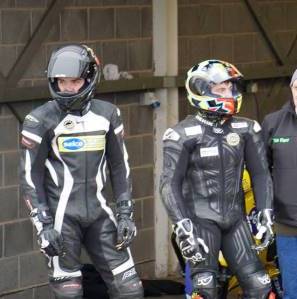 Myself and The Farv spent our first night in the converted van which was a laugh!  But we were dry, warm and comfy in our own beds which made a change from being frozen on a van floor.
Sunday Morning was frozen and there was a delay to testing as the track had frost on the surface which isn't good for two wheeled action.
Anyways we got ready to get out but unfortunately, we were held up by some minor technical problems with the bike which was to be expected after a full engine out rebuild I suppose.  We missed the two main dry sessions, but managed to finally get out for half a dry session.  Straight away with the new rebuilt suspension which had been looked at and set up by our new Suspension technician Teut Weihn, who used to mechanic for multiple British Superbike Champion John Reynolds had transformed the bikes handling and it felt much easier to ride.
Due to the cold conditions I was unable to go flat out but we knew we were moving forward from last year.
After the dry session, the rain came, and it came down hard with strong gusts.  It was that bad that only 4 bikes (including myself and my friend Adam Gittings) were out on track and down the back straight I was spinning the back wheel at 140-150 mph which kept me alert!  I used the wet track time to work with Teut and find a wet race suspension set up to improve our pace in the wet.
This is all new to me, as last year we didn't change a thing to the suspension due to not knowing how to!  Myself and Teut changed multiple setting on the front and back of the bike and when I went back out on the wet circuit it was brilliant.  The bike didn't feel as unstable and it held much better lines through the bends and under acceleration exiting slow corners.
To sum it up we are very happy with our new set up and are looking forward to our first season at Thundersport GB.  The bike feels mega and I can't wait to get into racing again.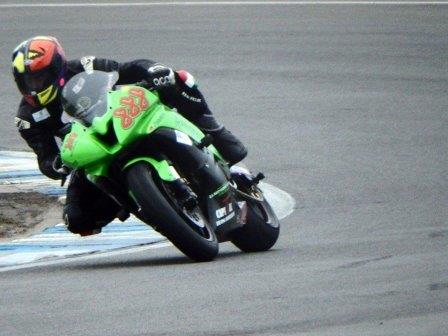 The next outing is on 6th March at Brands Hatch Indy circuit, testing on the Friday and then its Round 1 racing on Saturday and Sunday!
Fingers crossed for good weather and I will be hoping to make an impression with the big lads!
Thanks again for your continued support for this year and I hope to get you all down to the Oulton Park round later in the year!