Latest Thundersport update….
Latest update from Thundersport GB Pre-National 600 Round 8 Donington Park GP.
We went back to Donnington park for Round 8 of the Pre-National 600 Championships, but this time we were racing the full GP circuit which meant I had to learn another part of the circuit.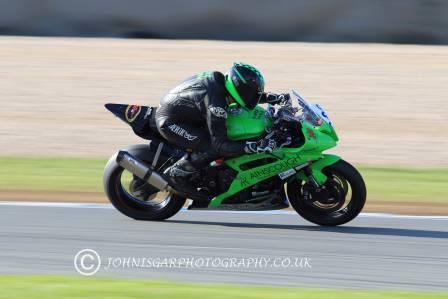 Friday Testing
Testing went very well, the weather was perfect.  The first 2 sessions we struggled with setup issues and went through 2 tyres in the space of 40 minutes (not good to the wallet!!), however we eventually found a great setting and got back on the pace.  The full circuit is a great track and I instantly gelled with it.
Qualifying on Saturday
Saturday morning came and again the weatherman was correct and the sun was shining.  The temperature was a little bit down but we went out and managed to get 12th position on the grid, only 0.04s off a first top 10 qualifying
Saturday Race 1
I Managed to get a good start, running in the top 10,  but on the second lap I ran wide on the run into The Foggy Esses which put me back to 11th place.  Luckily the bike felt great so I got my head down and and managed to finish the race in 8th!!!  Another best finish and I knocked 1.5 seconds off my qualifying time!
Saturday Race 2
I Got a great start into the top 10, but I was a bit late on the brakes going into Foggy Esses and I ran off track into the gravel.  Luckily I stayed on board but by the time I got back around to the start/finish line, my pit board told me I was in 17th position.  I knuckled down trying to catch the top 10.  I had some great battles moving up through the field and on the penultimate lap I made a lunge going into the Melbourne Loop taking 8th position.  I was closing 8th position down on the last lap but we ran out of time.  9th was a great finish considering the run off on lap 1!
Sunday Race 1
Sunday morning was very misty but it lifted in time for race 1.  The lap times from Saturday meant we qualified in 10th position which was our best to date!
I Got a brilliant start from 10th but I got punted out wide, onto the kerbs in the first corner putting me back to about 12th position.  However I managed to claw back a few places on the first lap and was back in the top 10 again.  I got into 8th position again and managed to pull 13 seconds on the 9th place rider bringing it home comfortably in 8th.  I also managed to get another PB lap time too which was brilliant!
Sunday Race 2
I got a better start than race 1 and managed to get away with the leaders in 7th place.  I managed to keep with them for a few laps but then got passed by another rider on the 3rd lap to put me back into 8th.  I stayed close and we were closing in on 6th but unfortunately due to a crash at the Melbourne loop on the 6th lap the race was red flagged due to oil being dropped on the track.  This was the best race of the weekend for us, we finished only 9 seconds behind the leader and showed we were competitive again in the top 10.  Also I got another PB lap time which was a bonus!
Overall an awesome weekends, three 8ths (#888) and a 9th. Slowly but surely starting to catch the leading pack now!
As always it wouldn't be possible without your continued support and we all appreciate it so much.  Now we are gathering pace we are looking forward to ending the season on a high at Cadwell Park on 16/17/18th October and also looking forward to a positive 2016 season!
Thanks again!