Latest update from Joe at JDL Racing September 2016
Well Anglesey was very interesting, we had ups and downs but that's racing I suppose!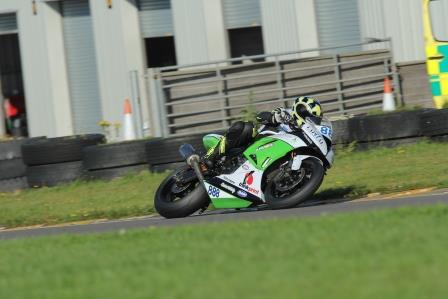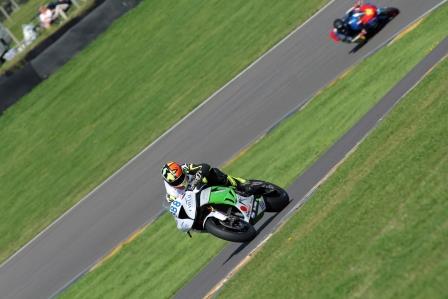 Testing
Testing went very well, we started off steady to try and get a base setting on the Kawasaki and new suspension. Steadily throughout the Saturday we got near to where we was last year on the Yamaha and we were happy going into qualifying.
Qualifying
Qualifying was very difficult as it was damp conditions but not damp enough for full wets or dry enough for dries. We went out on wets and after a quick stop half way through to sort the tyre pressures out we managed to qualify on the 3rd row of the grid in 7th.
Race 1
I got a terrible start lifting the front wheel but eventually found myself in the top 6. We managed to get into 5th position but by this time we had lost too much time to the leading pack and we was in no mans land. We finished the race in 5th which was great considering we had been struggling to get the bike to handle great.
Race 2
After a few changes to the setup we got a much better start straight into 5th place but got passed on the second lap. I had a great battle for 5th throughout the race and eventually we finished 5th again. The bike felt much better and we went faster but still we needed to improve.
Race 3
We had made a lot of changes on Sunday night ready for Mondays races and mega laps put me in 6th position. In morning warm-up the bike felt mega and going into the race I was looking forward to trying to keep the leaders in sight. I got a great start and managed to get into 2nd or 3rd but going into the second corner I was hit by another rider, luckily I managed to stay on the bike but I was dead last in 29th. I managed to work my way through the pack and after a lot of fun filtering through the pack we managed to get a few points and come home 14th and the lap times were pretty good considering I had no clear laps.
Race 4
Again we made more changes to the bike, we got a great start and was straight into 3rd place, we made it around the first lap and we were all having a great battle for the top 3. After fading to 7th I managed to get back into 4th and was catching the battle for 2nd but unfortunately on the 6th lap I was taken out at Rocket. Luckily both of us were able to walk away but that was the end of the weekend.
Overall a bit of an up and down weekend, we are finally back up the top end and getting to grips with the Kawasaki. The team was faultless all weekend, and even though it ended on a downer we were all very happy with how we are progressing. Teut at TW Suspension-Tech again was amazing with the rider support and setup. Now we need to get the bike repaired ready for Donington in September and I cant wait for that weekend, I love that place. Hopefully our luck will turn around soon!
Thanks so much for all of your support and lets hope we get that podium before the year ends! Also thanks to everyone who came down too, loved the support as always!!!
Regards
Joe and the Team