Racing pics and update on the latest by Joe Lawrence
Our Assessor Joe Lawrence gives a run down of his latest race, with some brilliant pictures.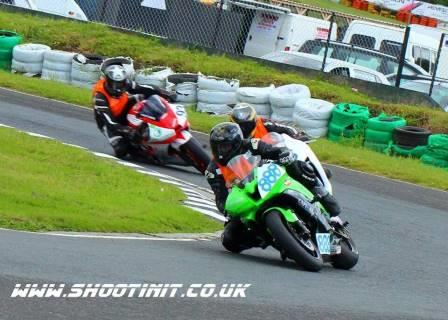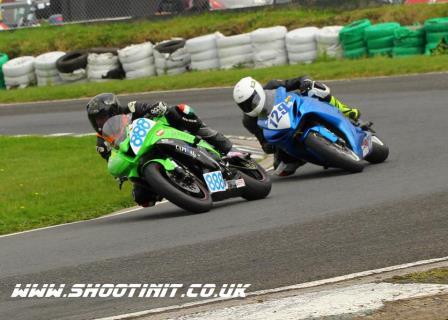 Hi Everyone, well it was race day again after what seemed to be a very long month off from racing!
Weather was set to be dry and not too hot which was ideal for racing and I was excited to get back out on track!
Sunday morning started with warmup and the bike felt good once again.  We messed around with tyre pressures which seemed to help with front and rear end grip and I was hoping to be down into the 57 second lap times.
Race 1 – Newcomers Qualifier
I was wishing for a 1st or 2nd row peg to be pulled out of the bag however I pulled out position 13 to start the qualifying race back on the 5th row, with my main rivals Martin McGrath and Adam Gittings on the front row I knew I had my work cut out for me!  Also another surprise in the mix was Mike Norbury who was riding Rob Barbers' CBR 600 and he was flying!!!
Anyway as the lights went out I managed to get into 6th position but could see McGrath, Gittings and Norbury out in front.  I managed to get into 4th position behind Gittings in 3rd and on the last lap got into 3rd position at the hairpin which would mean a front row start for the championship race….until I came up to a backmarker at the chicane and he shut off throttle on the exit which ran me onto the grass and killed the bike.  I managed to get it started again and luckily to the lead that us top 4 had, I managed to get back on track and finish 5th, middle of the 2nd row.
Race 2 – Formula 600 Qualifier
Again a good grid position peg was needed but I pulled out 10th position for the race.  The lights went out and again I got a good start and spent most of the race in 4th and was gaining on 3rd and 2nd place however on the last lap I was passed by BSB rider Chris Barnes and finished in 5th.  An awesome race overall and it got me a new PB of 57.607s lap.  Its great riding with the experienced riders as you learn so much, really enjoyed this race.
Race 3 – Newcomers Championship Race
This was an important race, I am leading the Championship by 15 points and ideally need to finish in front of McGrath to pull out a few more points to give me a comfortable lead going into the final rounds in October.  The lights went out and I got a good start and went straight into 3rd position behind Norbury leading and McGrath in 2nd.  It was a fast pace again set by Norbury and me and McGrath were hot on Norburys heels throughout the race constantly in the 57s lap times.  It stayed pretty much the same with us 3 pulling out a considerable lead from 4th place until the penultimate lap coming into the hairpin, McGrath came up to the same backmarker I had running ins with in the 1st race.  McGrath went for the outside line but the backmarker also went for the same line and they collided.
The backmarker went down and luckily McGrath managed to stay on and I managed to dodge the fallen rider and get into 2nd place.  It wasn't over though, literally one corner later another backmarker held me up and I saw McGrath coming up the inside but I closed the door and got passed the backmarker and put my head down for the final lap where I finished the race 2nd with McGrath just under a second behind.  I was over the moon, it was the best race so far, very close and fast racing  and I also managed to pull out another 2 points on McGrath increasing my championship lead to 12 points!
Race 4 – Formula 600 Championship Race
Out with the big lads again, starting from 5th position I got a decent start however, the first corner was hectic, it was elbows out trying to get a good position into the second corner.  I was in 6th position going into the hairpin when Ryan Garside had his 3rd accident of the weekend at the hairpin, high siding his CBR600 right in front of me.  Luckily I managed to dodge the bike in the track and got my head down. The incident unfortunately meant the top 4 riders pulled about 11 seconds on us and with a very worn tyre I struggled to find grip to catch them.  I was however fighting with David Lewis for 5th and managed to hold him off to the line and finish in 5th position.  Again a very good race considering the talent and experience in this class.
Overall a very good race weekend, good weather, very fast racing and to top it off I increased my championship lead by 2 points with only 2 rounds to go!
Again I would like to thank ATSL for your help and support, it wouldn't be possible without you!  Also it was brilliant to see the Big Cheese and Reece in the paddock cheering me on, thanks guys.
Now onto the next race at Donington Park in 2 weeks, 27th & 28th September.  I have decided to compete in the Thundersport Championship round at Donington Park, this is the championship I am hoping to compete in next year if I have the funds.  It is basically 1 step below British Superbikes and these lads are very fast and talented.  Fingers crossed for good weather and good racing.  I am not hoping for much but if I can mix it mid pack I will be happy as I have never seen the track before either.  I am very lucky that Ruth is funding this race otherwise I wouldn't be on the grid…I think she is a keeper!! 😛
Thanks again guys! J
Take a look at our new website www.jdlracing.co.uk