Sunseeker Global icon celebrate …….
Sunseeker staff celebrate achieving top industry safety qualification with Ainscough Training Services Ltd.
From humble beginnings,  Sunseeker have evolved from being a brand, to a global icon. Producing the finest motoryachts the world has ever seen.
Manufactured in Poole on the south coast of England.
The Sunseeker range constantly set new standards and benchmarks. Never settling for second best, it's this spirit of excellence that has driven Sunseeker to its pre-eminent position in the marine market today.
Sunseeker have recently completed training in lifting operations with Ainscough Training Services Ltd.
Pictured below are the successful candidates with Sunseekers, including Training Manager Alex Bowman and Training Administrator Kate Murray, along with  Ainscough Trainings  Lead NVQ Assessor Tim Morgan. Tim worked with Sunseeker and successfully assessed all the Sunseeker candidates.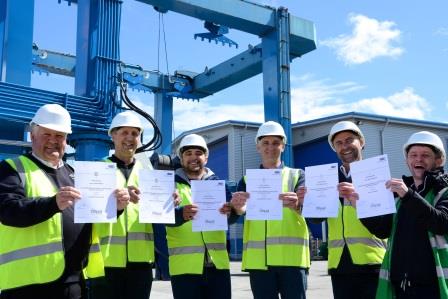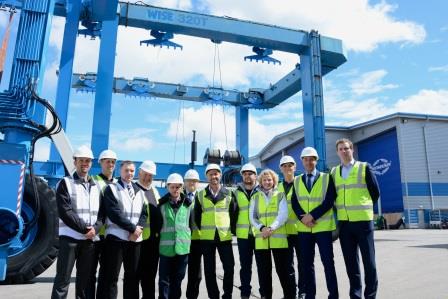 Six members of staff at Sunseeker International are celebrating, after achieving competent status with the Construction Industry Training Board's highly respected Construction Plant Competency Scheme for Appointed Person.
During an internal ceremony held at the brand's manufacturing centre in Poole, Dorset, Kevin Docherty, John Clark, Simon Thornton, Steve McCormack, Gareth Buckley and Danny Scullion were all presented with their official blue Competent Operator cards by Martin Dodd, Risk Manager.
The group wore white hard hats, in recognition of attaining Appointed Person status. Within any lifting, the Appointed Person is accountable for the lifting operations.
Commenting on the ceremony, Sunseeker's Training Manager Alex Bowman said: "We are very proud of the six members of staff who have completed this scheme, which ensures they have the highest level of competency in lifting operations. As far as we're aware, introducing this health and safety qualification is a first for any UK boatbuilding facility and is part of our commitment to investing in our employees and ensuring we are leading the way in the industry when it comes to safety."
Appointed Person Simon Thornton who has worked as a Deck Fitting Team Leader at Sunseeker since 2007, said: "I'm really pleased to have completed a qualification that is so well recognised in the construction industry. The training process was hard work but definitely worth it. The scheme equips you with pretty much unrivalled knowledge and competence in lifting operations and it has been great to study this in such depth."
Applicants undergo an intensive training process as part of the scheme, designed to ensure they achieve the highest level of competency in plant operations. The six dedicated members of Sunseeker staff have been working towards this qualification for the past 12 months.
Launched in 2003, CPCS provides a registration card scheme acknowledged by industry for those involved in plant operations by recognising skills, knowledge and understanding, competence and qualifications.
The scheme includes a CPCS theory and practical examination, completion of SVQ or NVQs plus assessments and ongoing renewal tests to maintain up-to-date knowledge and understanding.
CPCS is recognised by the UK Contractors Group (UKCG) and Major Home Builders Group (MHBG), amongst others, as the preferred card to comply with codes of practice for competence and certification.